Last time we ate out in Boro, we visited
Dosa Houze
on Victoria Road. We had such a good meal I wrote the following review for
Tripadvisor
:
I've eaten lots and LOTS of Indian food in my life, but have never really had the opportunity to try Southern Indian cuisine before. I love spicy food, and I love trying new things, and going out for an Indian meal usually means onion bhajii, chicken jalfrezi, pilau rice and a peshwari naan. However at Dosa Houze, the waitress first introduced herself and asked if we had ever tried it before. When we said no, she explained all the dishes and recommended the best way to try each course. We had dosas to start, a pancake made from rice flour and ground lentils, served with a variety of fillings - I had paneer and spinach with a kick of chilli - and a coconut/peanut chutney and a spicy sambar soup. The chef can judge by the hotness of your soup how hot you will like your main course!
For main course, I chose the thali with three curries - a coconut chicken, a tamarind prawn, and a fenugreek lam - served with an Anchra style naan - unlike the naans served in the Indian restaurants I'm more familiar with, but just as delicious. The tradition is to eat with your (right) hand, so mopping up the curries with the bread was a sensual as well as delicious experience. My only disappointment was the chicken coconut curry - it had a chicken soup flavour, so I wouldn't have that again, but otherwise it was a most inspiring and enjoyable meal. My husband had the chicken biryani, which was again accompanied by the spicy sambar and a salad, he liked it all but the chicken was a little dry.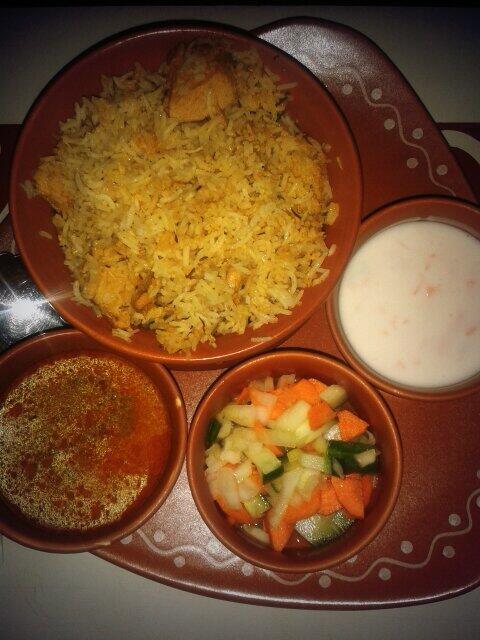 Thali
Overall I loved it, the ambience was lovely, the decor was a bit one-sided - by the window way beautifully ethnically decorated while further in was quite bland, and in need of some more attention. It was possible to see into the kitchen where the chefs were working too, which is always a good sign!
I would definitely recommend this restaurant for Southern Indian food. Don't go expecting your usually chicken tikka masala or saag aloo, try something different, you will not be disappointed.
Now we are back, and I'd love to return, but they are SHUT! What's going on?
"NOTICE TO ALL CUSTOMERS
Due to unexpected problem, we had to shut down today, we are not able to inform our customers who have booked with us today. OUR SINCERE APOLOGISES TO ONE AND ALL FOR THIS INCONVENIENCE. PLEASE ACCEPT OUR APOLOGISES."
Unexpected problems... well, now I have one, as this was what I was most looking forward to this trip Up North! However I'm sure they'll be up and running again before long, and when they are (before Tuesday I hope!) I'll be first in the queue...